Re-running setup files August 08, 2008 / Updated: October 29, 2022
Sometimes Zenphoto will request you to re-run the setup scripts and doing that lists files that might be a problem. This is a security measure if Zenphoto detects a change on your install. These can be files whose file time is off to the rest of them.
This can happen if you upload theme files two hours after the core files so all is fine. But it could also be a hack of a file.
It also triggers if there are files that should not be there as it checks its internal file catalog. This is nothing but a warning. Setup offers to delete the marked files but you don't need to. It has to assume you know about your install and what files should be there.
This might also be triggered if server software (e.g. MySQL or PHP) on your server has been updated.
Re-running Setup on Zenphoto 1.4.6 or newer
Using the <path to your install>/zp-core/setup.php link should unprotect the setup scripts and run them.
On Zenphoto 1.5 or newer setup files are automatically protected after setup ran.
Or you can use the utility button on the admin overview page to unprotect the scripts:

After clicking this a new button will appear that allows you to run setup: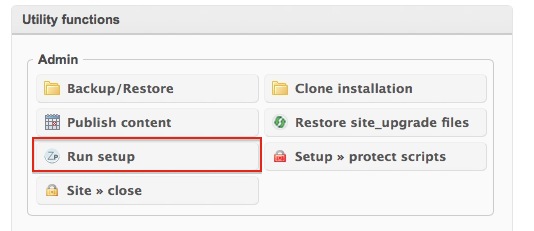 Re-running Setup on Zenphoto versions older than 1.4.6
On older Zenphoto versions you may need to re-upload the setup scripts. Here the setup scripts were not protected but indeed deleted. In that case you find them in the release package: /zp-core/setup.php (folder with several files). Re-upload that folder and navigated to <path to your install>/zp-core/setup.php to re-run.
This text by www.zenphoto.org is licensed under a Creative Commons Attribution-ShareAlike 3.0 Unported License.
Code examples are released under the GPL v2 or later license
For questions and comments please use the forum or discuss on the social networks.
Related items