zpBootstrap: index-small-size (5/16)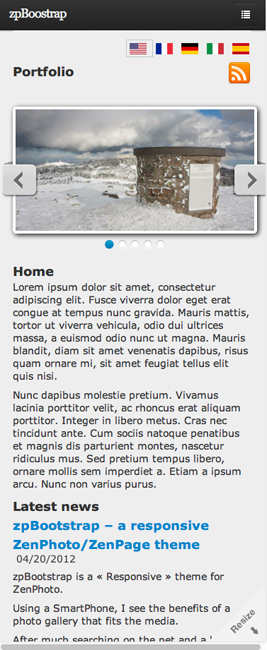 zpBootstrap is a responsive theme for Zenphoto. zpBoostrap uses and configures it's own colorbox/slideshow and modal plugins
Scripts used:
Bootstrap (HTML, CSS, and JS toolkit for Responsive WebSite)
Flexslider (a fully responsive jQuery slider plugin)
AddThis (snippet to add sharing tools to your site)
colorbox (lightweight customizable lightbox plugin for jQuery)
script for navigation with the arrow keys.
Note: The official theme is not yet compatible with Zenphoto 1.6. We made a fork on https://github.com/zenphoto/zpBootstrap until its developer hopefully finds the time for the official update.
Layout specific plugins supported:
Date added: 2012-04-21 03:55:51
---
---
---
More by author: