10th Anniversary June 05, 2015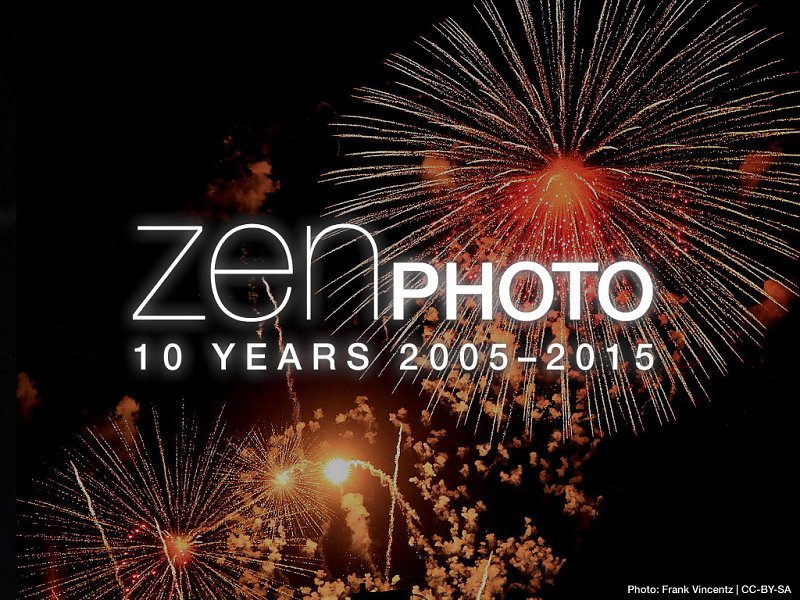 Photo: Frank Vincentz – CC-BY-SA
Around ten years and a few months ago, I was sitting in my college dorm room, looking for a way to host my photos on my web site in an elegant way. There were a few projects around, but none of them were quite right for my needs. Out of that problem, some feedback-gathering blog posts, and some late nights of coding, Zenphoto was born, with version 0.1 released ten years ago as of yesterday.
Since then, Zenphoto has grown bigger and more widespread than I thought possible, with hundreds of thousands of installations, over 1.4 million pages linking to zenphoto.org, 75,000 forum posts, and a total of 176 contributors over its lifetime. It is the contributors, especially the core team members, past and present, who have given the most of their time and energy. They continue to keep this project alive even after so long, and they are each owed an immense gratitude.
Looking forward, we are at a crossroads. The web today is very different from what it was ten years ago, but just as promising and vibrant a platform on which to communicate, especially using media. Zenphoto is no less relevant today than it was then, but let's be honest: it is starting to feel like ten-year-old software. Web applications today are responsive, dynamic, and focused on user experience quality, and Zenphoto should be too!
With that in mind, we're announcing our plans for the coming year today:
An all new responsive web site
A new forum, easier to use and search
And finally, a shiny new backend, new themes, and more.
We plan to release these improvements over the next few months, with no official target dates yet; there's a lot of work still to be done. We want your help! If you're interested in helping work on the new Zenphoto, please get involved. We would also love to hear feedback on what you think the future of Zenphoto should be, on the forum post here.
We continue to believe in the power and flexibility of hosting your own media on your own web site, and we're excited for the future of Zenphoto. Here's to another ten years! Who can even imagine what the web will look like then…
Thanks everyone for your continued support.
Tristan Harward (trisweb) and the whole Zenphoto Team
For questions and comments please use the forum or discuss on the social networks.