(The first) 5 years of Zenphoto! May 27, 2010
Please note: The original trisweb.com blog is not active anymore, thus all links are broken. All contents have been moved to zenphoto.org's news section so far possible.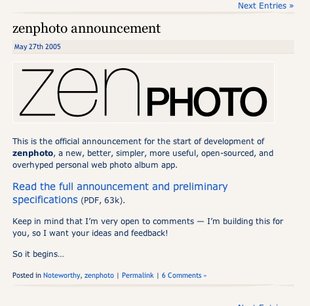 Yeah, you read correctly. Zenphoto has been around for five years now. We can't quite believe it ourselves and are glad that we managed the important 1.3 release for Zenphoto's birthday.

Let us take a quick look at how it all started:

On April 24, 2005 Zenphoto's original developer, Tristan Harward, posted the ambitious idea of "Reinventing the photo album" on his blog trisweb.com.

The very first announcement already with name and logo appeared on May 27th, 2005. We consider this as the "birth" of Zenphoto, that is why we wanted to release 1.3 on this date. Take your time and read the PDF of the specifications posted there. Much of it we have now!


The first 0.1 previewwas released on June 4th, 2005 and on April 25th, 2006 Zenphoto 1.0 beta gets an honorable mention on the Web 2.0 awards. Take a look at the old Zenphoto admin backend here.

2006-2007 Zenphoto saw a quite active development and its community grew with forum, bugtracker and website. We have assembled a collection of screenshots of the old site here.

We of course don't want to bore with listing them all. You can still read the old development posts on http://www.trisweb.com/archives/category/zenphoto/. The changelog can also be viewed on zenphoto.org.

However, after the 1.0.8.2 release development got in a kind of hiatus, so that in mid 2007 the community started the so called "community build" that incorporated many of the community features into the 1.0.8.2 release. This eventually lead to the founding of a new core development team which then released the long awaited 1.1 version.

This small but effective development team still runs Zenphoto with the welcome help of the community. On to the hopefully next five years! If you like leave a testimonial on the anniversary forum thread.
For questions and comments please use the forum or discuss on the social networks.