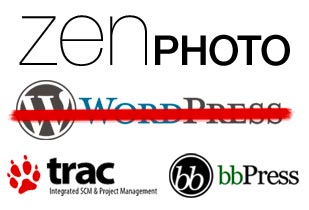 Our main website was driven by several systems since the release of Zenphoto 1.1 in 2007:
Wordpress for news, extensions and user-guide sections
Zenphoto itself of course for the showcase, themes and screenshots sections
trac for the bugtracker
bbpress for the forum

Zenphoto evolved greatly since then and is now able to take over the Wordpress parts itself.
Yes, your read correctly. We have indeed abandoned Wordpress! Against the trends! It's not that we don't like Wordpress anymore. We do. Really. But you probably can agree with us that we like to run our own site with our own product as much as possible. This also is a great showcase for Zenphoto being more than "just a web gallery". We found this an overdue step.
The site now uses our (...)